Dubai Carpet Shop is the Biggest Supplier OF Artificial Grass Abu Dhabi
Artificials Grass Abu Dhabi is a great alternative to natural grass and requires minimal maintenance and is safe for children and pets. Artificial grass Carpet are available in many colors, patterns, and sizes. If you want to buy Premium Synthetic Turf at affordable prices in Dubai and other parts of the UAE, check out our website. We at DubaiCarpetShop.ae provides eco-friendly and durable Fake Grass in Dubai which is soft and comfortable to feet compared to real grass. Artificial Grass Suppliers can help homeowners save money on maintenance and improve the aesthetic value of their rental properties.
Artificial Grass in Dubai is made up of synthetic Fibers which are perfect for gardens, nurseries, lawns, terrace, balconies, and playgrounds. It requires no watering, mowing, or fertilizing and lasts for years without needing to be replaced or repaired. Artificial Grass is an eco-friendly option for homeowners who want a beautiful lawn who wants to save water without spending a lot of money. This type of grass is easy to install, has a good drainage system, and looks just like real grass.
We Provide Custom Made Artificial Grass Carpet
If you have an outdoor space in your home, Customized Artificial Grass is an excellent option as it provides the look and feel of a real garden mowing and fertilizers. Furthermore, this type of grass carpet is safe for children and pets and can be cleaned easily with water and a mild detergent. Synthetic grass is a versatile product that can be used for various applications, from patio to swimming pool sides.
Artificial grass carpet Rolls are eco-friendly and odor-free, so they don't cause allergies or contain harmful chemicals. These carpets also don't lose their shape and can withstand all kinds of weather. Therefore, they're the perfect choice for any outdoor or indoor project. Custom Made Fake Grass can withstand harsh temperatures and require no mowing, watering, and fertilizers and last for a long time.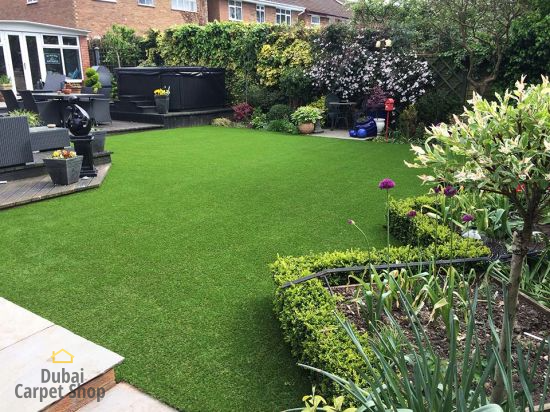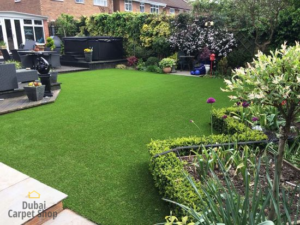 Get Premium Artificial Grass Carpet Roles
If you want to buy Ideal Artificial Grass Carpet Rolls for indoor and outdoor projects, check out our gallery. Dubai Grass Carpets is a leading manufacturer and supplier of Fake Synthetic Grass Carpet Rolls which feel soft and luxurious underfoot and are safe for dogs and children. Besides, this fake grass is environmentally safe and is low maintenance. 
Artificial grass Dubai is one of the best ways to add a natural feel to any space. But, unlike natural grass, Fake Grass does not require watering, dirt, or maintenance. It is also more sustainable. Therefore, it is the best option for people who are concerned about the environment.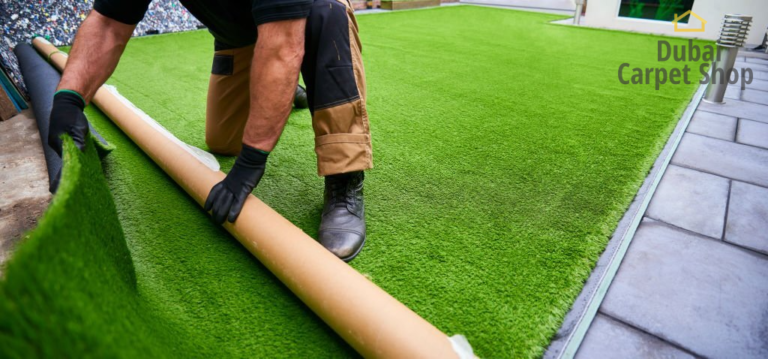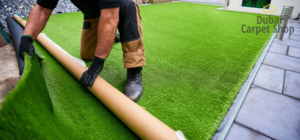 Why Chose our Artificial Grass in Dubai?
Another advantage of Artificial Grass Dubai is that it can reduce water bills significantly by saving 70% of water compared to natural grass. This is especially important in the UAE, where water usage is unnecessarily high. Fake Grass is also very durable and can last for years and doesn't require maintenance. If you want to purcahse the Highest Quality Artificial Grass Carpet Rolls in Dubai, Ajman, Abu Dhabi, Sharjah, and all over UAE, visit GrassCarpetDubai.ae.
Unlike natural grass, Custom Made Artificial Grass UAE does not fade or shrink after repeated use, and is resistant to heat, UV rays, and insects. It also doesn't require watering or regular maintenance, which means that it will look new for years. This grass carpet is one of the most durable and long lasting type of carpet in the UAE. If you're looking for a green, practical lawn, look no further as it provides a warranty and save maintenance costs by providing excellent installation services.
If you're considering buying an Artificial Grass Carpet Rolls for your home, visit our webstie:
Free Quotes, Samples, and Estimates

Door Step Delivery and Consultations

Trained Professional Staff

Customer Support is 24/7 Available

Friendly Customer Services